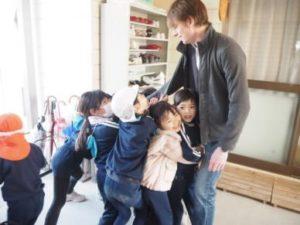 Phone: ext.4139
Email:
Degrees and Certifications:
M.Ed.TESOL B.A. Chinese Language and Literature ESL K-12 SEI Endorsed Chinese 5-12
Mr.

David Brian Foley, Jr.

Japanese Language Proficiency Lvl. 1,

Kanji Kentei Lvl. 2,

M.Ed. TESOL,

Asia Pacific International University

B.A. Chinese Language and Literature,

University of Massachusetts, Amherst
David Foley grew up in the town of Agawam in western Massachusetts. He studied Chinese, French, and Spanish at the High School of Commerce in Springfield and was an exchange student in Nagoya, Japan with the American Field Service . After finishing high school, he attended the University of Massachusetts and earned a bachelors degree in Chinese Language and Literature. Upon graduation, David worked for various companies in Massachusetts before packing his bags to resettle in Japan as an English teacher. After an arduous screening process and a long period of waiting in anticipation, he left for Aomori, Japan with the JET Program. During his 5 year stint as an assistant language teacher, David learned Japanese and passed the highest level of the nationally recognized Japanese Language Proficiency Test (JLPT).
In 2013, David began a 5-year long solo career as an independently-contracted English teacher in Sai Village. It was during this time that he married calligraphist and graphic designer, Aya Sato. They started a family in remote and picturesque Sai Village – David was the only English speaker in this village and acted as a translator, tutor, and international liaison for the entire population.
From 2007 until 2015, David also served as the unofficial interpreter for the Mutsu City Board of Education and the Kaohsiung, Taiwan Yangming Junior High School. He interpreted between Japanese and Chinese during these visits, completely foregoing the use of English, his native language.
Between 2012 and 2016, David Foley traveled to Muak Lek, Thailand to pursue an advanced degree in TESOL (Teaching English to Speakers of Other Languages) from Asia Pacific International University.
With an M.Ed in TESOL, David began teaching ESL at public schools in the United States and relocated his family to Nantucket, Massachusetts where he currently works at Nantucket Intermediate School. David spends his free time playing with his children, fishing, and interacting with the community through working around town.